Makîneya dagirtin û girtinê ya avî ya xweser
Berfirehiya Hilberê
Tags Product
Vê makîneya dagirtinê ya dagirtî ya zivirî ya otomatîkî ji bo tijîkirina E-şilek, hilberên krem ​​û sosê di nav şûşe an kûpan de, wek rûnê xwarinê, şampûon, paqijkerê şil, sosê tomato û hwd. Ew ji bo tijîkirina şûşe û şûşeyên cûrbecûr, şekil û materyalên cûda pir tê bikar anîn. Ew dikare li gorî hewcedariyên xerîdarên me were xweş kirin. Em dikarin wê bi makîneya lêdanê, makîneya nîşankirinê, tewra hin alavên pêvajoyê yên din jî lê zêde bikin da ku ew bêkêmasî bikin.
Makîneya ku servo motora ajotinê dipejirîne, konteyner dê werin şandin bo pozîsyonê, wê hingê serên dagirtî dê bikevin nav konteynerê, hêjmara dagirtinê û dema dagirtinê bi rêkûpêk dikare were danîn. Gava ku ew bi standard dagirtî, motora servo bilind dibe, konteyner dê were şandin, yek çerxa xebatê qediya. 
. Navbera mirov-makîneya pêşkeftî. Hêjeya dagirtinê dikare rasterast were danîn û hemî daneyan bêne sererast kirin û tomarkirin.
■ Ji hêla motorên servo ve têne ajotin rastbûna dagirtinê bilindtir dike.
Pist Pistona polayê zengarnegir a bêkêmasî ya homocentrîkî makîneyê bi rastbûna bilind û jiyana xebatê ya tiliyên sekinandinê dirêjtir dike.
■ Hemî beşa pêwendiya materyalê ji SUS 304 hatî çêkirin. Ew berxwedana korozyonê ye û bi tevahî li gorî standarda paqijiya xwarinê tevdigere.
Functions Fonksiyonên dijî-kef û lehiyê.
■ Piston ji hêla motora servo ve tê kontrol kirin da ku rastbûna dagirtinê ya her nozzle dagirtî sabîttir be.
Speed ​​Leza dagirtina makîneya dagirtina sîlîndêrê rast e. Lê heke hûn makîneya dagirtinê bi motora servo bikar bînin, hûn dikarin leza her çalakiya dagirtinê kontrol bikin.
■ Hûn dikarin ji bo şûşeyên cihêreng çend koma parametreyan li ser makîneya meya dagirtinê hilînin.
| | |
| --- | --- |
| Cureyê şûşeyê | Cûrbecûr şûşeya plastîk/cam |
| Mezinahiya şûşeyê* | Min. Max 10mm Max. Ø80mm |
| Cureyê kapê | Pûçek Alternatîf li ser kapê, alum. Cap ROPP |
| Mezinahiya Kapê* | Ø 20 ~ Ø60mm |
| Nozzles Filing | 1 ser (dikare 2-4 serî were xweş kirin) |
| Zûbûnî | 15-25bpm (mînak 15bpm@1000ml) |
| Volume dagirtina alternatîf* | 200ml-1000ml |
| Rastkirina dagirtinê | ± 1% |
| Erk* | 220V 50/60Hz 1.5kw |
| Compress hewa hewce dike | 10L/min, 4 ~ 6bar |
| Mezinahiya makîneyê mm | Dirêj 3000mm, firehî 1250mm, bilindî 1900mm |
| Giraniya makîneyê: | 1250kgs |
Bi panela kontrolê ya dîmendera destikê re, operator tenê hewce dike ku jimareya ku parametre tê de têkevinê, kontrolkirina makîneyê hêsantir dike, wextê li ser makîneya ceribandinê xilas dike.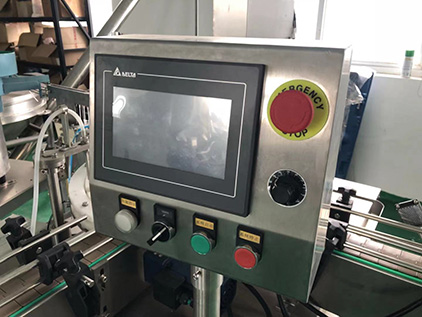 Bi nozzle dagirtina pneumatîkî hatî sêwirandin, ew ji bo tijîkirina şilek qalindtir wek lotik, bîhnxweş, rûnê bingehîn guncan e. Nozzle dikare li gorî leza xerîdar were xweş kirin.
Mekanîzma vexwarinê ya kapê dê sermiyan saz bike, kelûpelên xwarinê bixweber makîneyê dikare bi rêzê bixebitîne. The feeder cap dê li gorî hewcedariyên we were xweş kirin.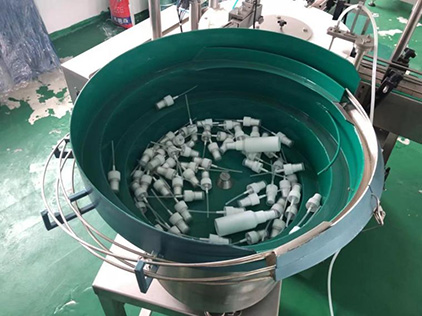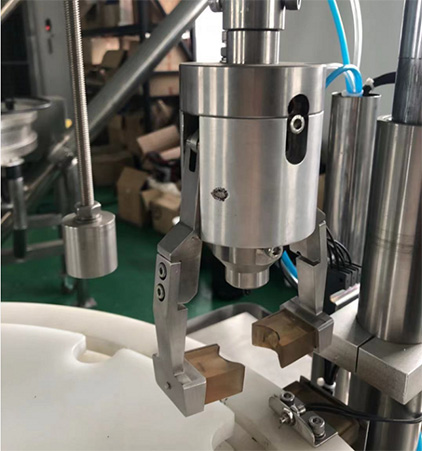 Çîçek şûşeyê rast dike ku bizûzê şûşeyê bizivirîne û hişk bike. Ev celeb rêbaza sergirtinê wê ji bo celebên cûrbecûr kelûpelên şûşeyê yên mîna şûşeyên sprey, şûşeya avê, şûşeyên dilopê guncan dike.
Bi çavê elektrîkê yê hêja ve hatî xemilandin, ev ji bo tespîtkirina şûşeyan hatine çêkirin û her mekanîzmaya makîneyê ku bixebitin an pêvajoya pêşîn amade dikin kontrol dikin. Qalîteya hilberînê piştrast bikin.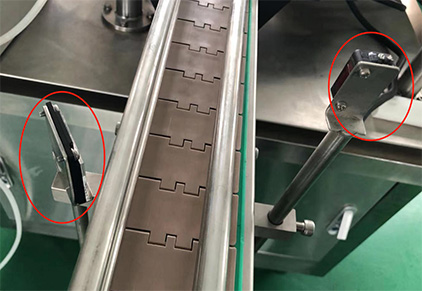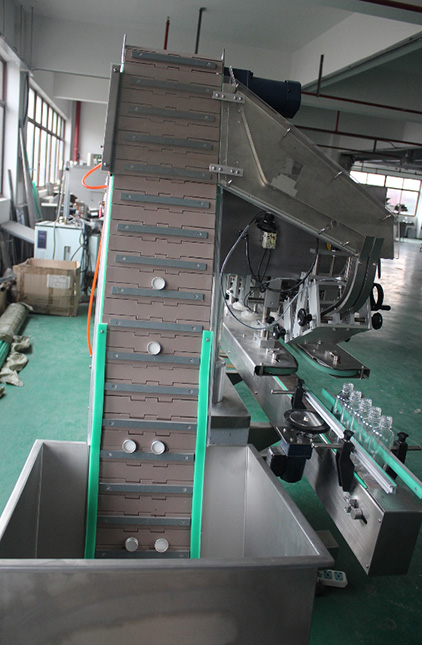 1. Amûra xwarinê ya kapê din
Ger kapika we ji bo şuştin û xwarinê nikaribe plakaya hejandinê bikar bîne, asansorê kapê heye.
2. ottûşe maseya zivirandinê ya nekişandî
Ev şûşeya ku maseya zivirînê ya nekişandî bi kontrola frekansê re xebatek dînamîkî ye. Pêvajoya wê: şuşeyan bavêjin tûrikê dora çalê, dûv re jî zivirî bizivirînin da ku şûşeyan bavêjin ser kemberê veguhastinê, dema ku şûşe têne şandin nav makîneya girtinê, girtinê dest pê dike.
Ger şûşa/şûşeyên we mezin in, hûn dikarin sifreya zivirandinê ya bi mezinahiya mezin hilbijêrin, wek diameter 1000mm, bejna 1200mm, diameter 1500mm. Ger şûşa/şûşeyên we piçûktir be, hûn dikarin maseya zivirînê ya bi piçûkek piçûktir hilbijêrin, wek mînak 600mm, 800mm diameter.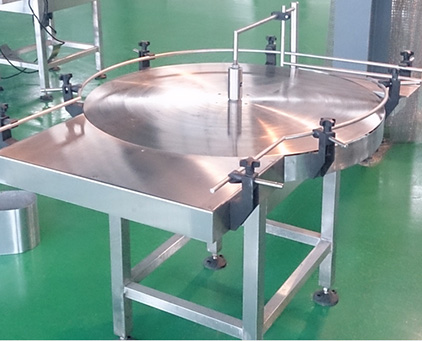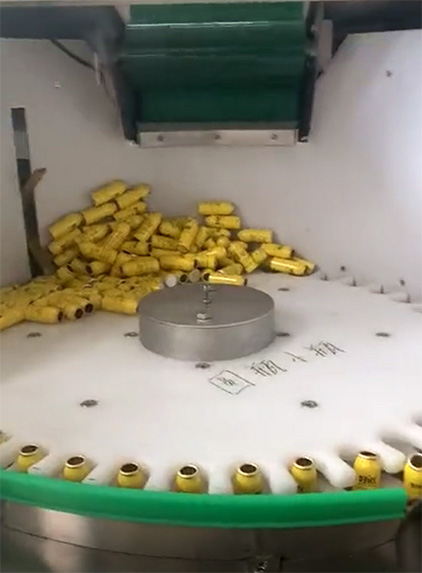 3. An makîneya neqişandina otomatîkî
Ev rêze makîneya neqilandina şûşeya otomatîkî şûşeyên dorûber bixweber dabeş dike û konteyneran bi leza heya 80 cpm li konvoyek vedigire. Vê makîneya neqilandî pergala demjimêra elektronîkî dipejirîne. Operasyon hêsan û domdar e. Ew di dermanxane, xwarin û vexwarin, kozmetolojî û pîşesaziyên lênêrîna kesane de pir bikêr e.
4. Makîneya nîşankirinê
Makîneya nîşangirîna otomatîkî ya ku ji bo şûşeyên dorûberê an hilberên din ên hevbeş ên cilindirîkî hatî çêkirin. Wek şûşeyên plastîk ên sîlîndrîkî, şûşeyên cam, şûşeyên metal. Ew bi piranî ji bo etîketkirina şûşeyên dorê an konteynirên dorîn di xwarin û vexwarin, derman, û pîşesaziyên kîmyewî yên rojane de tê bikar anîn.
■ Nîşankirina lêkera xweser a li ser, hilbera an radyoya mezin a hilberê.
■ Berhemên Serîlêdanê: şûşeyek çargoşe an xalî, kapika şûşeyê, pêkhateyên elektrîkî hwd.
■ Etîketên Serlêdan: pêlavên zencîre di nav rûkê de.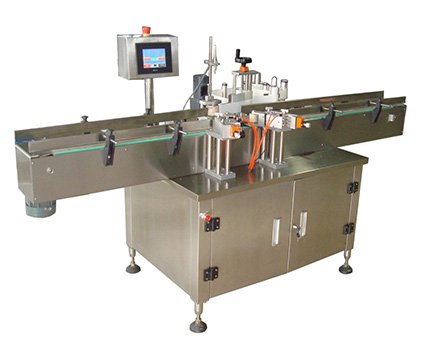 1. Em ê di nav 12 demjimêran de bersiva lêpirsîna we bidin.
2. Dema Garantiyê: 1 sal (beşa sereke ji bo we bi azadî di nav 1 salê de, wek motor).
3. Em ê destûra fêrbûna Englishngilîzî bişînin û vîdyoya makîneyê ji bo we bixebitînin.
4. Karûbarê piştî-firotanê: Em ê xerîdarên xwe her dem piştî firotina makîneyê bişopînin û her weha dikarin teknîsyenek bişînin derveyî welat ku ji we re bibe alîkar ku hûn hewce bikin makîneya mezin saz bikin û rast bikin.
5. Pêvek: Em gava ku hûn hewce ne parçeyên yedek bi bihayê reqabetê peyda dikin.
1. Ma endezyar heye ku li derveyî welat xizmet bike?
Erê, lê heqê rêwîtiyê ji hêla we ve berpirsiyar e.
Ji bo ku hûn lêçûnê xwe hilînin, em ê vîdyoyek sazkirina makîneya hûrguliyan ji we re bişînin û heya dawiyê ji we re bibin alîkar.
2. Em çawa dikarin piştî qutkirina fermanê ji kalîteya makîneyê piştrast bin?
Berî radestkirinê, em ê ji bo ku hûn kalîteya makîneyê kontrol bikin wêne û vîdyoyan ji we re bişînin.
Also her weha hûn dikarin bi xwe an bi têkiliyên xwe yên li Chinaînê verastkirina kalîteyê saz bikin.
3. Em ditirsin ku hûn piştî ku em drav ji we re bişînin hûn makîneyê ji me re neşînin?
Me destûr û sertîfîkaya karsaziya me heye. And ji me re heye ku em karûbarê pêbaweriya bazirganiya Alibaba bikar bînin, dravê we garantî bikin, û radestkirina dem-dem a makîneya we û qalîteya makîneyê garantî bikin.
4. Ma hûn dikarin tevahiya pêvajoya danûstendinê ji min re vebêjin?
1. Fatora Têkilî an Proforma îmze bikin
2. 30% spartinê li kargeha me bicîh bikin
3. Fabrîk hilberînê saz dike
4. Berî barkirinê ceribandin & tespîtkirina makîneyê
5. Ji hêla xerîdar an ajansa sêyemîn ve bi serhêl an ceribandina malperê ve hatî kontrol kirin.
6. Berî barkirinê dravdana balansê bicîh bikin.
5. Hûn ê karûbarê radestkirinê peyda bikin?
Erê. Ji kerema xwe me ji mebesta xweya dawîn agahdar bikin, em ê bi beşa barkirinê ya xwe ve kontrol bikin da ku lêçûna barkirinê ji bo referansa we berî radestkirinê binirxînin. Em pargîdaniya meya barkirinê ya xwe hene, ji ber vê yekê barkirin jî bêtir avantaj e. Li Keyaniya Yekbûyî û Dewletên Yekbûyî şaxên me danîne, û gumrikê Keyaniya Yekbûyî û Dewletên Yekbûyî rasterast hevkariyê dikin, çavkaniyên desta yekem digirin, cûdahiya agahiyê li hundur û derveyî welêt radikin, tevahiya pêvajoya pêşkeftina tiştan dikare rast bizanibe şopandina dem. Pargîdaniyên biyanî brokerên gumrikê û pargîdaniyên xwe yên trailer hene ku ji wergir re dibin alîkar ku zû gumrikê paqij bike û tiştan radest bike, û pê ewle be ku tişt bi ewlehî û di wextê xwe de têne. Ji bo tiştên ku ji Brîtanya û Dewletên Yekbûyî re hatine hinardekirin, ger pirsên wan hebin an jî fam nekin, şandî dikarin bi me re şêwir bikin. Em ê karmendên pispor hene ku bersivek bêkêmasî bidin.
6. Makîneya dagirtin û girtina otomatîkê çiqas dem dirêj dike?
Ji bo makîneya dagirtin û girtinê ya standard, dema pêşîn 25 roj piştî wergirtina dravdana we ye. Di derbarê makîneya xwerû de, dema pêşîn li ser wergirtina depoya we nêzîkê 30-35 roj e. Wek motora xwerû, fonksiyona pêvek, û hwd.
7. Di derbarê karûbarê pargîdaniya we de çi ye?
We Tops Group balê dikişîne ser karûbarê da ku çareseriyek çêtirîn ji xerîdaran re, di nav de karûbarê pêş-firotanê û karûbarê piştî-firotanê jî peyda bike. Me di pêşangehê de makîneya hilanînê heye ku ji bo ceribandinê bibe alîkar da ku xerîdar bibe alîkar ku biryara dawîn bide. And li Ewrûpayê ajanê me jî heye, hûn dikarin di malpera ajansa me de ceribandinek bikin. Ger hûn ji ajansa meya Ewrûpayê ferman bidin, hûn jî dikarin li cîhê xwe karûbarê piştî-firotanê bistînin. Em her gav bala xwe didin ser makîneya weya dagirtin û girtinê û karûbarê piştî-firotanê her dem li kêleka we ye da ku her tişt bi kalîte û performansa garantîkirî bi rengek bêkêmasî bimeşe.
Di derbarê karûbarê piştî-firotanê de, ger hûn ferman ji Shanghai Tops Group bidin, di nav yek sal garantiyê de, ger makîneya dagirtin û girtina şilav pirsgirêkek we hebe, em ê belaş perçeyan ji bo guheztinê, tevî xerca eşkere, bişînin. Piştî ermanî, heke hûn hewceyê perçeyek yedek bin, em ê perçeyên bi bihayê lêçûnê bidin we. Di bûyera xeletiya makîneya weya lêdanê de, em ê ji we re bibin alîkar ku hûn yekem car pê re mijûl bibin, ji bo rêberiyê wêne/vîdyoyê bişînin, an jî ji bo hînkirinê bi endezyarê me re vîdyoya zindî ya serhêl bişînin.
8. Hêza we ya sêwirandin û pêşniyara çareseriyê heye?
Bê guman, me tîmê sêwirana profesyonel û endezyarê pispor heye. Mînakî, heke şûşeya/şûşeya weya taybetî ye, hûn hewce ne ku nimûneyên şûşe û kumikê xwe ji me re bişînin, wê hingê em ê ji bo we sêwirandin.
9. Kîjan şûşe/jar dikare makîneya dagirtinê bigire?
Ew çêtirîn ji bo Dor û çargoşe, şeklên din ên nerastbar ên lassûşe, Plastîk, PET, LDPE, HDPE, çêtirîn e, pêdivî ye ku bi endezyarê me re were pejirandin. Pêdivî ye ku hişkiya şûşe/kûpan were qefilandin, an jî ew nekare zexm bike.
Pîşesaziya xwarinê: her celeb xwarin, şûşe/kûpên baharatê, şûşeyên vexwarinê.
Pîşesaziya dermanxaneyê: her celeb şûşe/jûreyên hilberên bijîjkî û tenduristiyê.
Pîşesaziya kîmyewî: her celeb şûşe/kûpên lênihêrîna çerm û kozmetîkê.
10. Ez çawa dikarim bihayê bistînim?
Em bi gelemperî di nav 24 demjimêran de piştî ku em lêpirsîna we digirin (Ji bilî dawiya hefteyê û betlaneyan). Heke hûn ji bo bidestxistina buhayê pir lezgîn in, ji kerema xwe ji me re bi e -nameyê re bişînin an bi awayên din bi me re têkilî daynin da ku em nirxek ji we re pêşkêş bikin.
---
---